Sanctuary: My Testimony (briefly)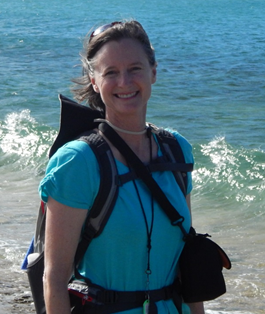 I grew up in a cloud of glory. His presence was so real to me from an early age and I spent all my time beholding His beauty in His creation, and singing and writing to Him. Through many trials the Lord revealed Himself to me as Father, Friend, Provider, Soul-Satisfier, Blessing Giver, Healer, Wise Counselor, and Lover – even as my mom poured the gospel over me like fine oil. I do not remember a time where I felt He was absent. But through the years, and as I grew into marriage (to a beautiful, godly man) and motherhood (of four blessings), I have only felt His presence, power and glory increase in my life—as I have sought Him, adored Him and received His awesome Holy Spirit and love.
Not without trial! There always are desert seasons. But what I love about the desert is this. "His thoughts outnumber the sands!" (Psalm 139) And His streams find their way through a heart on a pilgrimage.
He is my All in All. I love Him and He loves me. Do you know He loves you?
I grew up writing and graduated as a journalist, wrote for newspapers and magazines, edited a small daily paper, and wrote for a global mission agency, all while gathering young women together in every season to experience God's presence through worship, prayer and Bible study.
Like David on the back hillside singing love songs to Jesus, and like Mary breaking open her alabaster jar, I am after His heart. And all I have to give is mine. He poured out everything on the cross and keeps pouring out His life over me like Living Water rushing from the Holy Place and filling my heart to overflowing.
I cannot contain Him.
He doesn't always leave us in the secret place. He cultivates our hearts before Him—the Potter working the clay—and then takes us after the baking and uses these vessels for His glory.
I am His vessel. And you are, too.
I am His sanctuary. And so are you.
And together we will go through the fire and come out ready for His use. And I believe today is the day He is pouring through His prepared vessels, His sanctuary hearts alive in Him.
For some, it's a season for marching orders. Others need to hide in the cleft of the Rock until you're filled anew.
I want this to be a place where you feel encouraged and find your calling. Where you grow and are used for His purposes. Where you dream and follow through. Where you find joy in the waiting as you worship your way through the dark times. Where you rise up from deep pits, resist the evil one and pursue the Lord with all your hearts.
I press on to take hold of that for which Christ Jesus first took hold of me. (Philippians 3:12)
He is able to do immeasurably more than all we ask or even imagine, according to His power at work in each one of us. (Ephesians 3:20)
I pray for you to know His love beyond measure. Believing His love for your individual heart will change your life and fill you with His glory. Agreeing with His heart for you will empower your life.
Beholding Him, we are changed from glory to glory. (2 Corinthians 3:18)
Come, hurry … let us run together! Let the King bring us into His chambers … for His complete saturation of our hearts in Him … for unveiling His glory and beauty … for setting us in devotion and wisdom … for love.
Let Him kiss me with the kisses of His Word. For His love is better than wine and life. Pleasing is the fragrance of His perfume. His name, Jesus, is like fine oil poured forth. It's no wonder that we love Him. Hurry, let's run together. The King has brought us into His chambers. Song of Solomon 1
And Let His heart burn in our hearts. Let His life fan the flame of our lives. He walks among the lampstands (Rev 1-2) and He is walking among us today. Even now.
Set Me as a (fiery) seal over your heart. (Song of Solomon 8:6)
Are not our hearts burning within us as He walks with us. (Luke 24:32)
Let us do this night and day. With deepest devotion.
For He is coming soon. He is returning for a Bride in Love with Him. Fall unshakably in love again.
Let love fuel all we do. Let us fix our eyes on the King. Let us Hope in Him alone. Let us trust Him and know Him and abide in Him. Let us find surrender sweet. Let us pray without ceasing and worship Him with all our hearts.
Let us see what He will do.
The Spirit and the Bride say, "Come!" And let him who hears say, "Come!" Whoever is thirsty, let him come; and whoever wishes, let him take the free gift of the water of life. (Revelation 22:17)
In the glorious, matchless Name of our Lord Jesus.
Amen.


Special Note:
Yes, I'm married to Chauncey Hutter, Jr.  A marketplace Christian, Chauncey in 2007 led us to start the Business of Prayer, a prayer ministry partnering with men and women living the lifestyle of worshiping the Lord in every sphere of life. We had prayed many years, yet here we opened harp and bowl prayer rooms with live worship, singing the Scriptures and prayers, and we found great joy in lingering with the Lord for extended times of intercession for our city and nation, as well as birthing a deep intimacy in those who joined us. We witnessed life transformation and healing in the lives of many who attended conferences.
In 2012, the Lord called me to start Women Abide, a ministry inviting women across denominational lines to a life of worship, intercession and abiding continually in the Presence of the Lord – no matter where our two feet take us. We live to see worship and prayer flood every arena of our lives, transforming hearts, cities and nations. We believe God is Big, Mighty and Majestic, and He will accomplish His will. He will have a Bride in love with Him! We pray, "Your Kingdom come, Your will be done, right here on earth as in heaven." We are a presence based ministry and we will worship and pray—and encourage others to do the same—until He comes again.
The Spirit and the Bride say, "Come!" (Revelation 22:17)
There is no other way. Every heart will worship Him. His glory will cover the earth and all His ones will join with the angels in the song of the Bride and the Lamb.
And all glory belongs to Him.